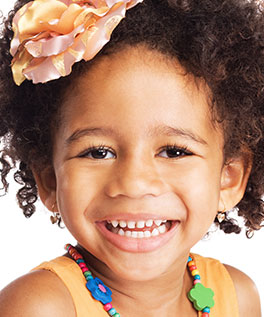 Getting an early start in regular dental care is an important step on the road to teaching your child healthy lifetime habits. We want to share with you the latest available methods for keeping your child healthy and safe.
The Dental Home is intended to provide a place other than the Emergency Room for parents.
Pleasant visits to the dental office promote the establishment of trust and confidence in your child that will last a lifetime. Our goal, along with our staff, is to help all children feel good about visiting the dentist and teach them how to care for their teeth. From our special office design, to our communication style, our main concern is what is best for your child.
Our office, as well as the American Academy of Pediatric Dentistry, recommends that your child visit the dentist by his/ her first birthday. You can help make the first visit to the dentist enjoyable and positive. Your child should be informed of the visit and told that the dentist and their staff will explain all procedures and answer any questions. The less to-do concerning the visit, the better.
At your child's first visit we will review the child's medical and dental history. We will discuss good oral hygiene practices for your child's teeth and gums and cavity prevention. We will also take the necessary x-rays, complete a cleaning and fluoride treatment, and do a thorough examination. Children under 3 years of age do not usually require x-rays and a tooth cleaning. During the examination, we will check all of your child's existing teeth for decay, examine your child's bite, and look for any potential problems with the gums, jaw and oral issues. We will thoroughly review our findings with you, make recommendations, and answer your questions.
We invite you to be present with your child during the first visit to our practice and for all preventative care appointments scheduled every six months. These visits should compromise the overwhelming majority of visits to our office.
We strive to make each and every visit to our office a fun one!